Specialist Acoustic Fencing Installation
Acoustic fencing has been designed to significantly reduce noise in its application, preventing sound waves penetrating the fence system.
How does acoustic fencing work? Quite simply, sound waves travels in straight lines, sound can therefore be reflected, refracted or conducted based on the materials properties. Any item placed in the way of these waves will reduce the sound waves "energy" therefore dampening the sound. Homestead usually recommend these products to be installed in schools, industrial areas and homes.
Homestead Fencing & Landscaping is an approved installer of Jakoustic® noise barrier systems supplied by Jackson's Fencing and the innovative Klik-Lok acoustic barrier system by Genwork Ltd. Working closely with our suppliers, we can design and install specialist acoustic fencing solutions for both commercial and residential applications throughout the South West including Somerset, Bristol & Bath.
Reduce unwanted noise around your property
Protect your family or employees
Create a calmer and enhanced atmosphere
Solutions to meet both residential and industrial requirements
Attractive designs which blend into and enhance their surroundings
Designed to eliminate any gaps or spaces ensuring greater privacy
Sustainable solution
Practical & cost-effective solution
Applications
The benefits of acoustic fencing can be recognised across a wide variety of applications and property types including:
Residential
Schools
Commercial sites
Transport hubs
Acoustic Fencing – What to Choose
Jakoustic® Fencing Range
Suitable for: Residential, Housing Developments, Schools, Construction Sites, Event Venues
Klik-Lok by Genwork
Suitable for: Commercial, Industrial, Transport Networks, Manufacturers
Not sure what type of acoustic fencing you require?
Homestead South West can design and install a bespoke specialist acoustic fencing system to suit your requirements. As Jacksons Fencing and Genwork approved installers, we are able to offer you the latest designs and specifications.
Check out our Instagram to see the latest projects we are working on!
Jakoustic® Fencing Range
The unique Jakoustic® Fencing timber fencing system has been designed to suit any size of project in any sector, with a wide range of products available. Timber Acoustic fencing is one of the most cost effective, sustainable, and flexible solutions for noise reduction, easily adaptable to suit most ground conditions and contours.
Combining design and installation expertise, high acoustic properties, and a natural façade, this fencing system can deliver unrivalled environmental benefits, is highly sustainable, and comes with an unrivalled 25 year guarantee.
Reduces noise by up to 28dB*
Anti-climb and anti-scale design
High privacy barrier
Can accommodate changes in level or profile
Matching pedestrian, swing, and tracked sliding gates available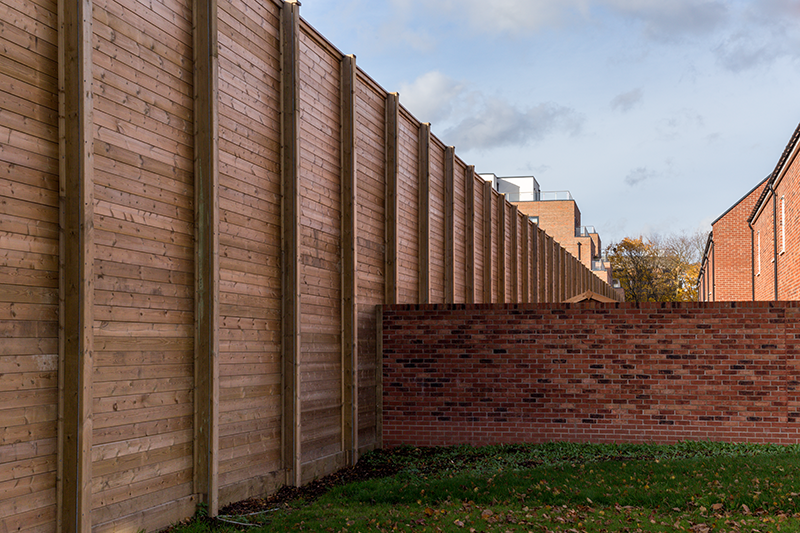 Jakoustic Fencing Brochure
Jakoustic Fencing Specifications
Klik-Lok System by Genwork
GenAcoustics offer a range of purpose designed environmental noise barrier solutions specifically aimed at infrastructure
projects involving road and rail as well as industrial applications where noise reduction is of critical importance.
This barrier systems consists of cassettes with grooved faces which Klik-Lok together to produce exceptional strength and a rigid assembly which will not warp or shrink.
Cassettes are manufactured from high performance 90% recycled HDPE with 10% prime additives, essential to deliver their unique and innovative product design.
Lightweight and easy to install
High acoustic absorbency performance
Designed to last, does not warp or shrink
A sustainable solution made with 90% recycled plastic
Up to 20m assembly height
Klik-Lok Installation Guide
Looking for Acoustic Gates?
For a totally integrated specialist acoustic fencing solution, we can install matching Jakoustic® timber or galvanised steel framed gates configured as singles or pairs in swing and tracked sliding designs for manual or automated operation.
Specialist Acoustic Fencing Contractor Somerset & South West
We are a specialist acoustic fencing contractor based in Somerset and we travel to many locations throughout the South West for fencing installations, including Bristol, Bath and surrounding areas. You can be assured of an acoustic fencing solution which provides both practical and visual benefits for your property, from a fencing company that is professional and trustworthy.
Whatever fencing solution you are looking for, we are happy to advise. Contact us today for a free quote.
We supply and fit specialist acoustic fencing throughout Somerset, Bristol and the South West. Our clients include residential properties, councils, Church of England (Diocese of Bath and Wells), Wessex Water and the NHS.